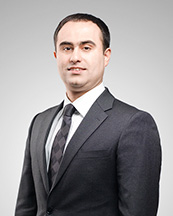 Nariman Sardarlı
Board Member
Mr. Nariman Sardarly is Board Member of Azmont Investments.
Nariman Sardarly graduated with Bachelor's Degree in Business, Management and Finance from Brooklyn College at City University of New-York in 2004. In the same year he commenced his professional career as an Audit Assocciate in Deloitte, Azerbaijan. In 2005 he joined PwC Baku office as an auditor.
In 2007 he joined newly established PASHA Bank as an expert in MIS in Fianncial Management Department. Responsible for internal and external financial reports. In 2009 he joined PASHA Holding's Investments and Projects Department as investment manager responsible for developing PE/VC financing vehicle of PASHA Holding. In March, 2009 he was appointed Head of Audit Committee of PASHA Bank, in 2010 - a member of Supervisory Board of PASHA Bank.
In 2012 he received scholarship from State Program to obtain his Master's degree in Business Administration from IE Business School participating in exchange program with Kellogg School of Mangement at Northwestern University.
In February 1, 2015 he was appointed Director of Investments and Projects Department of PASHA Holding.